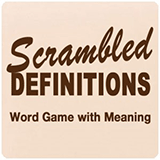 Scrambled
Definitions
How to Play
NEW! Play the Booksends Word Search in your browser for free!
The words inside boxes in the definitions below have been scrambled!
To move them around, click the first word you'd like to move, then click a second word to swap their positions.
Go ahead, try it!
You can't want get what you always
Want to play on your Kindle Fire or Android Device? Download the Scrambled Definitions app for free!
A Few of Today's eBook Deals
© 2018 Digital Media Revolutions Corp. All rights reserved.